This event is hosted by the: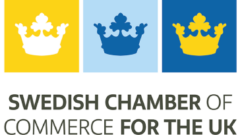 Technology can be transformational. But how is tech tackling the fundamental challenges facing us within environmental and social impact? Join us at Tech Forum 2020 – a virtual and collaborative gathering – as we discuss the technologies of the future, and tech as an enabler for good. How can ideas and innovation behind ideal driven technology and conscious investments be used to drive change?
Through keynotes, panels, pitching sessions from aspiring start-ups and interactive talk shows, and with a stellar line-up of speakers from both sides of the North Sea, we explore the technologies shaping the future and how the industry, academia and policy makers can solve the world's problems together.
Join us and meet leading and successful Swedish and British entrepreneurs, large corporates on their own digitisation journeys, UK public bodies in transformation, and some of the many venture capital investors browsing the space in Europe's financial capital.
Date: 3 September 2020
Time: 15.30 – 18.30 CEST
Venue: Digital Event