Past Event
"Preparing Global Leaders in a Modern World – Building Bridges Between Cultures and Generations"
---
This Tuesday, 24 April, the British-Swedish Chamber of Commerce together with AFS, the French Chamber of Commerce, the Swiss Chamber of Commerce and AmCham, organised an event about intercultural understanding and leadership in the workplace. The event was generously sponsored by Grant Thornton.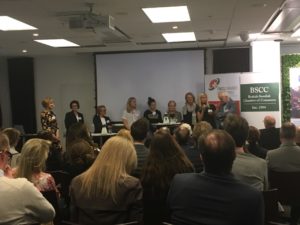 We had the great opportunity to listen to key note speaker Meg Tiveus and an interesting panel consisting of; Karin Henriksson, Yves Chanterau, Karin Björkman, Barbara Zehnder, Monica Söderlund and two students from AFS. The discussion was moderated by Margareta Neld.
All of the speakers shared their own experience of facing and handling cultural differences, and gave us some advice to better work in a global environment. They finally all agreed that internationalisation is a fact and that people shouldn't see it as a threat, but instead as a challenge to overcome.
In cooperation with: