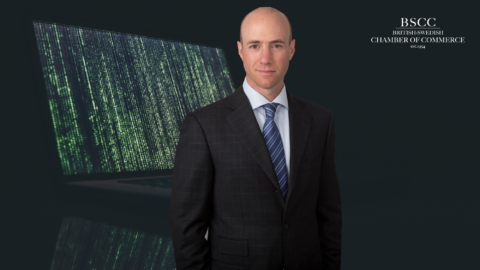 The British-Swedish Chamber of Commerce and Eversheds Sutherland is pleased to welcome you to an exciting evening at Norra Latin. During the evening Michael Bahar, Litigation Partner at Eversheds Sutherland, Washington DC will guide participants through a simulated cyber attack. 
The simulated cyberattack runs through an all-too-realistic scenario against a multinational organization headquartered in Sweden. This highly engaging and interactive simulation covers the roles, best practices and steps that you and your organization can take to ensure that a bad day doesn't become a tragic year.
The simulation is designed to bring out and simplify the often complex considerations involved in preparing for, protecting against and responding to cyberattacks, including ransomware attacks, in a rapidly evolving global threat and regulatory environment.
Michael Bahar
As former Deputy Legal Advisor to the National Security Council at the White House and General Counsel for the US House Intelligence Committee, and as a former Active Duty Navy JAG, Michael co-leads Eversheds Sutherland's global cybersecurity and data privacy practice providing comprehensive advice on cybersecurity and privacy, international law and national security law to some of the US' and the world's largest companies. Michael is also currently a Commander in the US Navy JAG Corps Reserves.
In 2020, he returned from a mobilization to Afghanistan and Doha where he served as the lead lawyer for the US team negotiating the peace agreement with the Taliban.
Date: 16 May
Time: 17:30 – 20:30 CET
Venue: Norra Latin, Drottninggatan 71b, 111 36 Stockholm