Making Sense of Global Trade
With Anna Sellinger, of the Confederation of Swedish Enterprise, and Sebastian Remøy, of Kreab
Introduction
Anna Stellinger has two decades of experience in International Affairs, global trade and EU Affairs which include heading up two government agencies. Furthermore, Stellinger has served three years as the Vice Chairman of Lund University and now works as the Deputy Director General, of International and EU Affairs, at the Confederation of Swedish Enterprise which represents 60,000 companies. You can connect with Anna Stellinger, on LinkedIn, here.
Sebastian Remøy is the President of Public Affairs at Kreab whilst additionally leading their 'Trade Competition & Investment Practice' and 'Brexit' Team. Remøy is a board member of the Transatlantic Business Council and works as the TABC's Brexit Working Group. Previously he was a representative at the EFTA alongside experience working in U.S. Embassies and the U.S. Congress in multiple roles. You can connect with Sebastian Remøy, on LinkedIn, here.
The State of Global Trade
Global Trade is approximately at a 7 out of 10 for health at the moment
Global Trade Policy is a 3 or 4 out of 10 and heading in the wrong direction
Some countries have benefited from protectionist measures which should be removed to level the playing field.
We need to return to multilateralism with the WTO- however, this can be dysfunctional but is improving with U.S. influence returning.
Stellinger's suggestions for the WTO are:
Update the global trade rules (some are too old and not followed)
Plurilaterals should be seen as a test-bed for negotiation
Improve dialogue between companies and businesses (a problem also seen at the OECD)
Autonomy
Open Strategic Autonomy was a key talking point of 2020- however, autonomy does not make sense for trade. The concept divides the EU with nations such as France in favour; whereas, Sweden is opposed to this.
Achieving a level playing field has no clear definition as views differ as to whether this extends to matters such as wages, the environment and parental leave. The WTO sets out clear guidelines on similar non-discrimination laws.
Chinese Trade
The EU-China Comprehensive Agreement on Invest is not a protection agreement but a market access agreement. Many Chinese businesses benefit from state-aid which puts EU companies at a disadvantage.
The agreement, in its current form, will not succeed in the EU parliament.
Politicians should not be able to steer extensive value chains but issues of reshoring production have been raised across the continent.
Approximately, just 2-3% of Swedish businesses are considering reshoring but a much larger percentage are focused on diversification of supply chains.
Free Trade
Sweden is famous for being pro-free trade.
Half of young people cannot say what free trade is and there is a correlation between a lack of knowledge around FTA's with lower approval ratings.
We have become complacent about public approval for free trade
Swedish Trade Unions remain in favour of free trade and promote it.
Brexit
Frictionless trade was/is the single market.
The best FTA ever negotiated is the one with the UK but is not equal to being a member state.
UK and Swedish companies are having trade challenges with each other.
The pandemic has sped up digitalisation and this has eased post-Brexit relations/trade across borders.
Our thanks go to Anna Sellinger, of the Confederation of Swedish Enterprise, Sebastian Remøy, of Kreab, and Epicenter for hosting this event with the BSCC.
Date: 1 June 2021
Time: 09.00 – 10.00 CEST
Venue: Virtual Event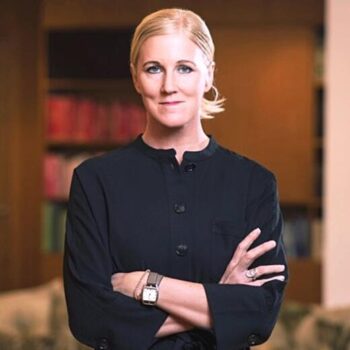 Anna Stellinger has two decades of experience in International Affairs, global trade and EU Affairs, including 12 years as Director General and Head of two government agencies with an international focus in Sweden. Anna also has 10 years of experience working in Think tanks in France, and served for seven years on the Lund University Board, including three years as Vice Chairman of the University.
Today, Anna is the Deputy Director General, International and EU Affairs, at the Confederation of Swedish Enterprise, an organisation representing 60,000 companies. She is also a Board Member of Business Sweden.
In 2014, Anna was appointed by the Swedish government to be the Director General of the National Board of Trade (Kommerskollegium), a position she held for a period of six years. While there, Anna oversaw a team of 100 experts in international trade, trade policy and EU affairs.
Sebastian Remøy is the Executive Vice President – Public Affairs, Kreab Worldwide, and leads Kreab's Trade Competition & Investment Practice and the Brexit Team. Sebastian is a Transatlantic Business Council Board Member and European Chair of TABC's Brexit Working Group. He was also the EFTA's representative on EU's Internal Market Advisory Committee, and Secretary to EFTA's Horizontal Group on the Lisbon/Internal Market Strategies.
Previously, Sebastian was the Senior Trade Specialist & Deputy Head – Commercial Section at the U.S. Embassies in London and Oslo, and Policy Analyst at OTA, U.S. Congress and the Center for Strategic and International Studies.