Members
Knowledge from our Network: Ragnar Agnell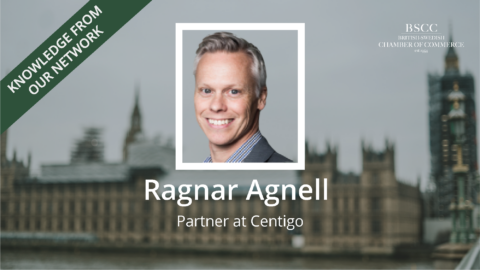 What is your company's expertise, what can your company assist other members with?
"Centigo is your modern partner for business critical and cross-functional innovation and change. We work closely with our clients through all phases of transformation – from strategy and innovation to implementation and achieved results in a range of industries and areas of expertise, such as digital transformation, supply chain, M&A integration, operations improvements and sustainability. We contribute with a unique drive, and consistently achieve the highest client satisfaction ratings. Working with us will be like working with no other consultancy you have ever engaged with before!"
How are you and your industry handling the UK-EU Exit?
"With experience from more than twenty Brexit related projects, our team offers guidance and support to clients in the UK and Nordics in trade compliance and supply chain challenges.Centigo offers a holistic, end-to-end view and approach, as opposed to e.g. only customs, only HR, or only tax. To serve clients with advice and expertise across a full range of issue areas and industries, Centigo collaborates in the UK with the Brexit Partners network."
Being a member of the BSCC, how does that contribute to your and your business' operations?
"There are several benefits being a member of the BSCC. Particularly, we find it valuable to meet peers through the network that also do business within both Scandinavia and the UK. The events that BSCC arranges are very personal and inspiring which we appreciate as well."