News
COBCOE Brexit Report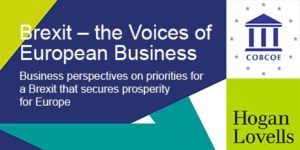 A new perspective on Brexit
Businesses in continental Europe need to be heard on Brexit.
Our new report: Brexit – the Voices of European Business has just been published.  It's the result of a unique pan-European research project to identify the key areas of common interest.
We're publishing this report to help negotiators and government officials understand the realities of the complex business relationships that underpin the European economy.  It also includes priorities for a Brexit that secures prosperity for Europe.
Help us spread the word
Please share this report, especially with those who have influence.
COBCOE has presented this report to the UK Government Department for Exiting the European Union and will soon be presenting it to the European Commission Taskforce on Article 50 Negotiations.
COBCOE's Brexit Ambition project
Our Brexit Ambition project was launched immediately after the UK vote to leave the EU. Its main purposes are to identify the areas of common interest between the UK and the EU 27, the steps that need to be taken to protect them and what needs to be done to ensure that businesses continue to be able to grow and invest during the withdrawal period.