Job opening
We are looking for a new Communications Manager
The British-Swedish Chamber of Commerce is looking for a new Communications Manager, with an interest in international business, entrepreneurship and British-Swedish relations, to join the Secretariat in Stockholm, after the Summer. We bring British and Swedish companies together by providing excellent opportunities to network in inspiring environments, creating possibilities for each member to learn, develop, contribute and build new platforms. Scroll down for more information about the position.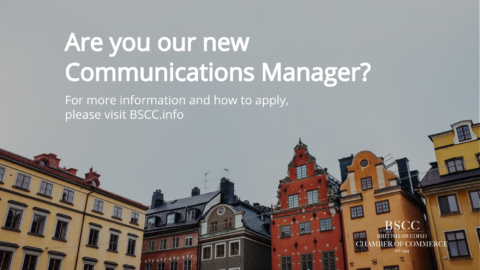 About the position
We offer a dynamic workplace with a broad variety of tasks and networking opportunities. The BSCC network is highly stimulating, as our membership represents small and mid-sized enterprises, to large and reputable global firms and financial institutions, with business interests in Sweden and the United Kingdom.
Tasks and responsibilities:
Project management.

Event coordination, in cooperation with members and other stakeholders

Physical and virtual events.

Assistance with communications, including writing and graphic design.

Social Media; planning, editing and content creation.

Provide support internally and externally.

Support with the CRM.

Basic data entry and audits.

Import contact files into CRM databases.
Requirements:
Proficiency in Microsoft Office, experience of digital tools such as WordPress, Mailchimp, Eventbrite, and Zoom.

Well organised and proactive with a strong inner drive.

A basic CRM knowledge.

professional English skills.

'Social media litterate'.

A high social competence.
The Applicant:
We believe you are a digital native with some work experience, a genuine interest in international business, strong English language skills, and high social competence. We are looking for a person with an inner drive to deliver and who is open to assisting with a wide variety of office duties. We value creativity, attention to detail and the ability to work independently. We are looking for someone who likes to take initiative, use critical and analytical thinking and assume responsibility working with our British and Swedish members.
Practical Details:
Flexible part-time/full-time hourly basis.

Please submit your cover letter and CV in English to christina.liljestrom@bscc.info to apply, no later than 30 June 2021.

Preliminary starting date in August 2021.