How to Survive the War on Free Trade: Multi-Chamber Program
Tuesday September 19, 2017 4:00 PM to 6:00 PM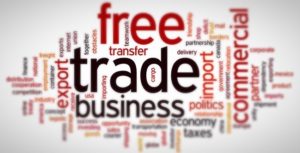 How to Survive the War on Free Trade: Multi-Chamber Program
Today, trade agreements between long-established global partners, from countries united together to individual companies, are constantly being influenced by economic and political pressures.
Please join AmCham Sweden, Chamber Trade Sweden, the French Chamber of Commerce and us, the British-Swedish Chamber of Commerce for an in-depth discussion on current free trade practices.
The program will begin with insights provided by award-winning author Johan Norberg and followed by a panel where Patricia Kempff of ABB and Tanja Rasmusson from the Government will join and provide additional prospectives. The discussion will be moderated by David Landes of the Local Europe.
Date: 19 September 2017
Time: 16.00-18.00
16.00 Registration
16.15 Insights from Johan Norberg
16.45 Panel Discussion
17.30 Mingle
Venue: United Spaces,Inspire Conference Room, Klarabergsviadukten 63, Stockholm
In cooperation with: